NEW Reusable Face Visor
---
Innovia introduces New Reusable Face Visor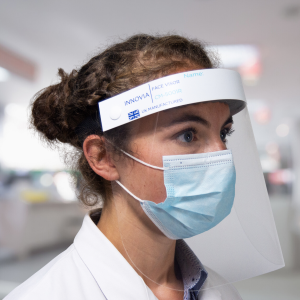 As our efforts to produce COVID-19 Personal Protective Equipment (PPE) continues, we are very excited to announce the introduction of the Reusable Innovia Face Visor.
The device provides top, side, and front face protection from aerosols and minimises airborne cross-contamination.
Our Engineers have worked hard to design and develop a UK manufactured Visor that can be used for up to 5 days by the same user, ensuring a reduced environmental impact as well as a more cost-effective solution.
The new design includes N rated hydrophilic anti-fog coating, this prevents condensation forming to ensure an optically clear screen and maximum visibility (compliant with EN166:2001 Clause 7.3.2). Once again, we have ensured our product complies to the highest PPE regulation requirements (CE Category III 2016/425 as per Annex II with Notified Body Satra Technology Europe Ltd).
We have also enabled improved user comfort and experience through developing an ultra-soft grooved foam headrest. This allows for increased comfort and efficient removal of dermal heat.
Collaboration at Innovia UK has seen this latest innovation be created in such a short space of time as COVID protection remains a necessity. UK production will be carried out at DTR Medical in Swansea and Network Medical in Ripon, with both teams working together to produce maximum numbers of PPE.
Additional new features include permanent marker compatibility which includes space for individuals to write their name and customise their Visor. A pre-printed 5-day tally tick box feature permits the wearer to keep track of the number of days used, and when to dispose and replace.
Over the COVID-19 pandemic our mission has been to protect those on the frontline, and we have become a trusted and reliable supplier for the National Health Service (NHS) providing them with over 1 million Innovia Face Visors.
Our Single-use Visor has been a success story with all of our PPE produced going to UK healthcare workers.
Click Here for more infoamtion on our NEW Reusable Face Visor
Click Here to download our NEW Resuable Face Visor brochure
Follow us on twitter @innoviamedical for more updates on our Face Visor and COVID-19 efforts