The Innovia Face Visor Story…
---
The COVID-19 pandemic has presented us all with new challenges, the biggest of which being how we protect our healthcare heroes on the front line.
Over the last few weeks, Network Medical in Ripon, North Yorkshire have been working against the clock with our sister companies Summit Medical in Minnesota, USA and DTR Medical in Swansea, Wales to find a way to manufacture Face Visors.
In less than four weeks we have gone from initial concept to full scale production across all three manufacturing sites with the target of bringing our fourth site at our sister company Eagle Labs in California online by next week.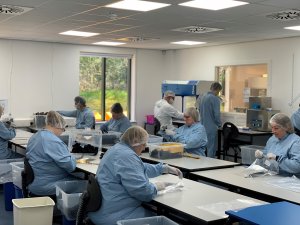 This has been an enormous task and has required us to pull out all the stops, from finding and sourcing new raw materials, transforming our clean room production spaces to training production and office team members to work as an efficient assembly line.
In order for us to produce enough Face Visors to make a real difference, the teams have been working weekends, evenings and over the Easter holidays.
The team spirit at our Network Medical site – like our sister sites – has been outstanding. We have seen senior management including our CEO and Operations Director work side by side with production operatives (whilst maintaining social distancing), as well as an abundance of home baking and generosity to help keep us all powering through.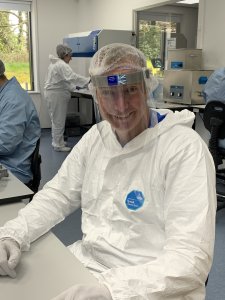 We are proud as a team at Network Medical to now be able to produce upwards of 50,000 CE registered and BSI regulation compliant Face Visors a week. We are continuing to rethink and adapt our production space so that we can increase our capacity in order to deliver the vital PPE equipment needed to our healthcare heroes in the UK.
The hardship of COVID-19 will pass, and in time normal life will resume, but the team spirit, memories, and new skills we have all developed will stay with us.
We came together as one global team, and we will move forward onto new challenges as not just a stronger team but as one united Innovia family.
Click Here to find out more about the Innovia Face Visors or follow us on twitter @networkmedical1